We know, you want all the facts about us.
Our answers to the most frequent questions.
Casavo•13 January, Casavo team
A day at Casavo as Construction Project Manager: Álvaro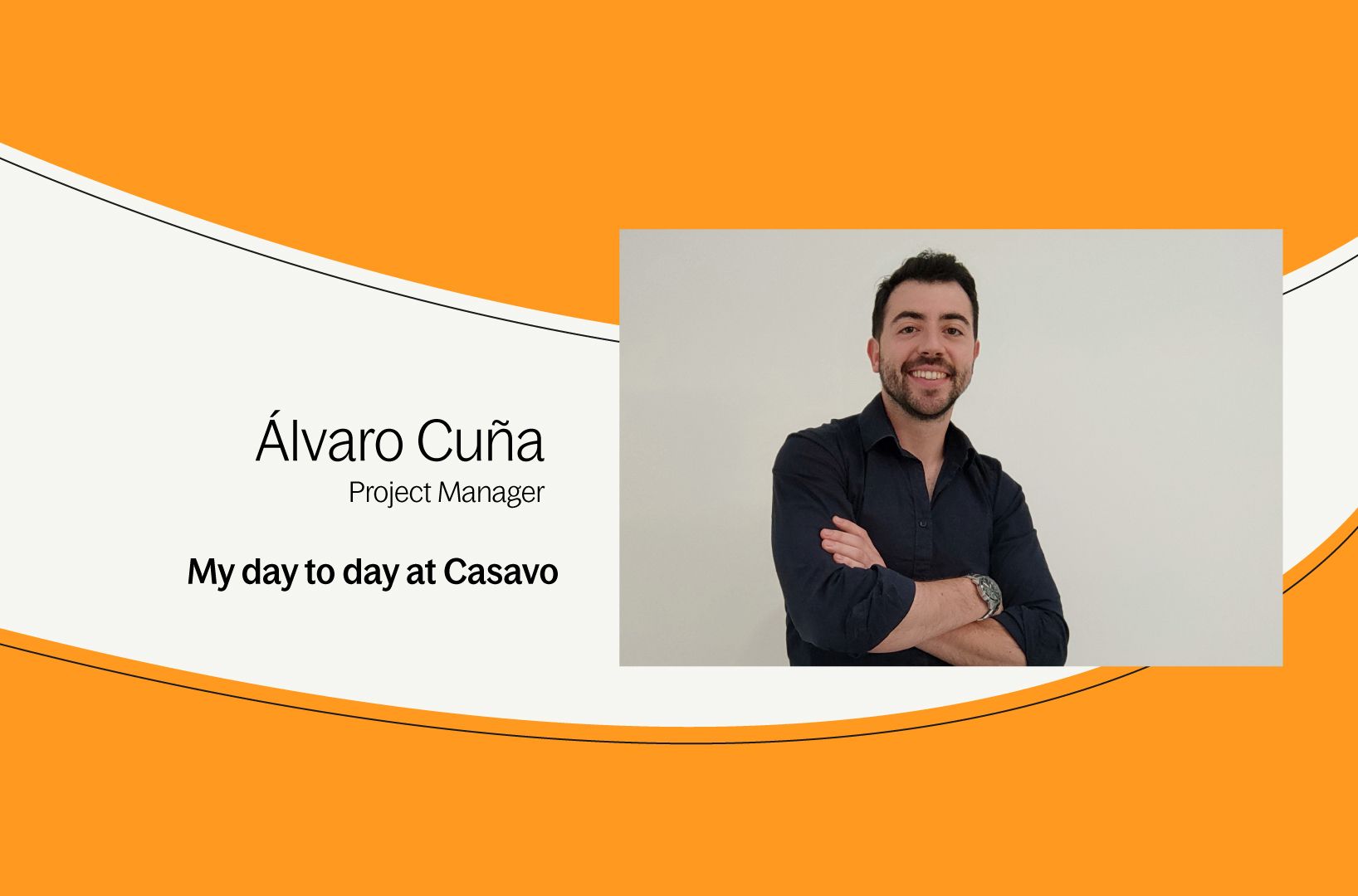 Here at Casavo our mission is to change the way people sell, live and buy homes in Europe. Everyday, we work all together to achieve this objective. Each of us is empowered from day 1 to take responsibility, drive change and make an impact. An example of someone who demonstrates these, is Alvaro.
Alvaro is Construction Project Manager in Madrid. He joined us a few months ago. Since day one, he is always looking for room for improvement to ensure a good way of working between all his team's stakeholders (internal and external). We chatted with Alvaro to learn more about his experience at Casavo and his job.
Hi Alvaro, thank you for having this chat with us. Please tell us more about yourself!
Hi, my name is Alvaro. I am 29, I joined Casavo 8 months ago in Madrid as Construction Project Manager. I did my studies in Madrid. Previously, I have been living and working in Salamanca and Malaga. I have a degree in Engineering, a Masters in Real Estate Management and an MBA, which I did during the quarantine to get some occupation.
From now, I have 6 years of experience in real estate. I have been in post-sales, promotions, new construction. I am really happy to get all this knowledge over the past years. And I joined Casavo 6 months ago, and I am really happy about my experience here.
What excites you the most about working in Casavo?
The first thing that I noticed when I came here is that, at Casavo all suggestions of improvement, feedback are listened to, and if it makes sense actions are taken and it can become a part of your job.
I could also talk about the environment in the Madrid office which is super positive. There is a very good mood which allows us to work in a very good way.
What does it take to succeed as a Construction Project Manager with Casavo?
First of all, as Construction Project Manager, your technical knowledge is key. But being fact driven, conscientious, and focusing on details on the decisions you take are also really important in your day to day. It's also necessary to show it through transparent communication to your team, other departments and external stakeholders. So, being trustful in your decisions is key. To sum-up, I would say: professionalism, organization and support. Thanks to this we create good relationships with our diverse stakeholders, which is key for us to do our work in a good way.
How is the Renovation team composed in Madrid?
In the renovation Team in Madrid we are about 10. There is 1 coordinator and 4 Construction Project Managers like me, our job is to manage and coordinate the renovation in Casavo properties before they are sold to buyers. We work with external stakeholders which are sourced by our Procurement Manager. There is also 1 engineer, 1 post sales and 1 cost control planner. We also work closely with the Headquarters' Team.
What are your Team's habits?
We communicate a lot internally. With the other Construction Managers and our Coordinator we have little catch ups everyday. The aim of this quick coordination meeting is to share between us what our plans are, how projects are going on, prioritize our work and according to that we give support to each other when there is a situation blocked.
Pick one of the Casavo values and explain why it is important in your Team?
For sure I would take "Radical honesty". To me, this point is really important, because if you want to improve things and progress day by day, you have to know the reality for the good and for the bad. So, We can't pretend to be perfect everywhere, there is always room for improvement. And knowing our strengths and weaknesses ensure that we continuously go to the next level. And I really appreciate at Casavo that feedback and ideas are always well received (if you say it in a good way, for sure).
What's your favorite Casavo's benefits?
Without doubt, I would say the smartworking model. Everything is about to be efficient and effective in your work. At Casavo, managers trust their teams and this is an amazing thing. Because, if you don't trust your Team it doesn't work.
Get an instant online home value estimate