Do you need more information?
Casavo•15 October, Casavo team
A new push for innovation with the acquisition of Realisti.co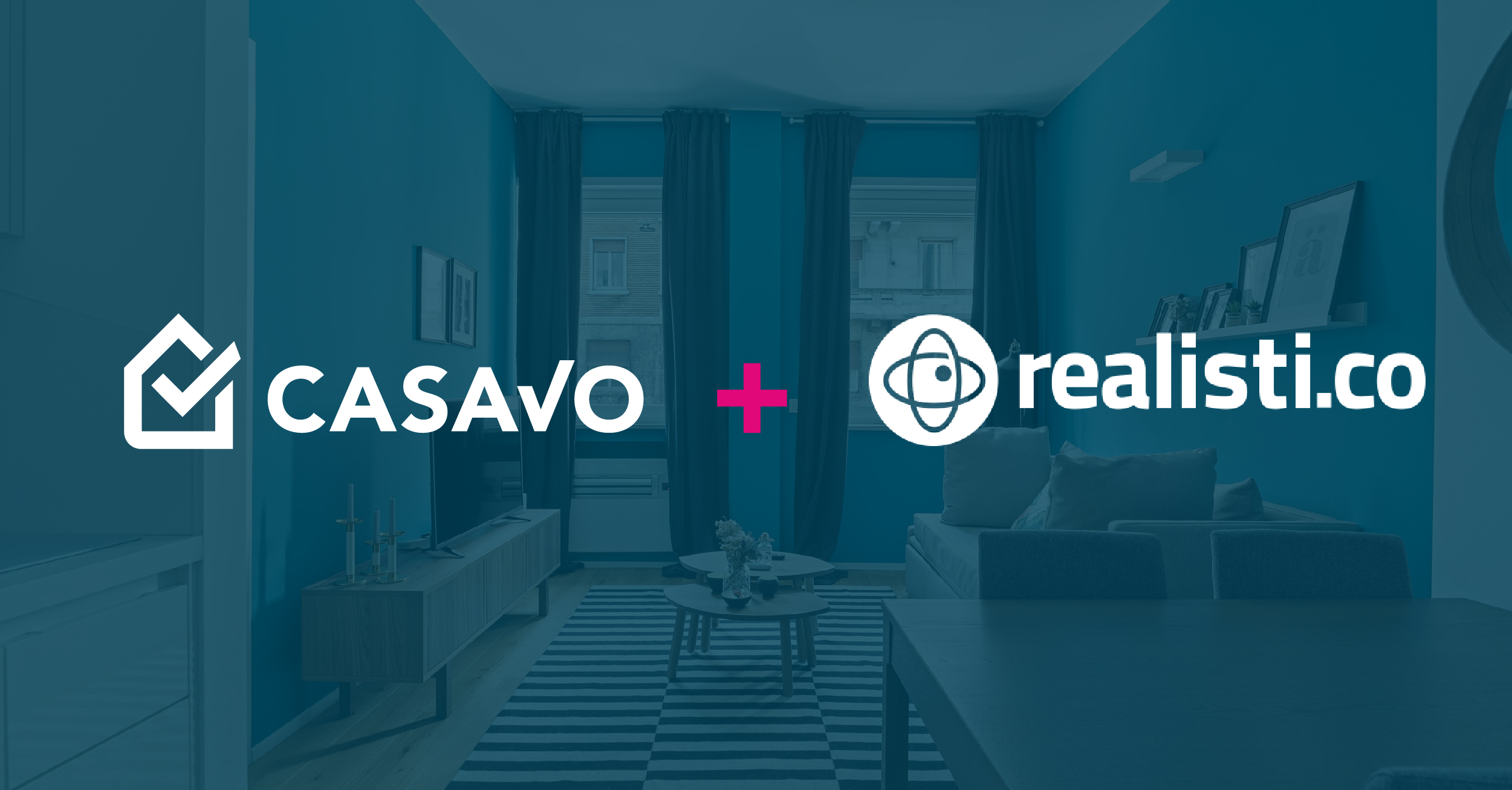 We work every day with a single objective in mind: to innovate in the real estate sector, simplifying every aspect involved in the purchasing process, both for the end clients as well as the real estate agencies.
Today we've taken another step forward by acquiring Realisti.co, an innovative startup that offers those working in the real estate sector the possibility of creating virtual tours in total autonomy and for any type of property, utilizing any 360° camera and the Realisti.co App.
The acquisition of Realisti.co represents another strategic investment to solidify our technological capabilities offered to real estate agencies and to improve the digital purchasing experience for the consumer, made even more crucial by the coronavirus health crisis.
"We have been collaborating with Realisti.co for more than two years using their virtual tour service to market our properties," says Giorgio Tinacci, Founder and CEO of Casavo. "We were impressed by the technological product that the Realisti.co team developed, which contributed to the digitization of the entire sector. We have always considered our collaboration with real estate agencies a fundamental aspect of our business and this investment allows us to solidify the technological capabilities we offer to our partners. In the coming months we will assist Realisti.co to further improve the digital purchasing experience for consumers, responding as well to the new needs that have emerged due to the Covid-19 health crisis."
Remote visits – safe and interactive thanks to virtual reality
Founded in Turin in 2015 by Edoardo Ribichesu and Mikel Amilburu, Realisti.co has become a reference point for the Italian and Spanish real estate industry thanks to the ease-of-use of their services and the partnerships they have forged with the main players in the market, not only traditional but also Proptech startups. In roughly 4 years of activity, clients of Realisti.co have participated in more than 100,000 virtual visits.
The virtual reality experience made available by Realisti.co allows for the creation of products and services that improve the customer experience thanks to the possibility of doing a completely safe site visit. This technology makes it possible to reduce the property selection time, allowing for visual validation of each property of interest and facilitating the dialogue between customer and real estate agent.
"We are happy to enter into the large Casavo family, an important step on the path towards even more ambitious goals," said Edoardo Ribichesu, Co-Founder and CEO of Realisti.co. "By uniting our technological know-how with the Casavo eco-system, we will offer real estate agents a combined package of innovative services that will help them to successfully face the challenges of the market. Improving the property search experience for the end client has always been one of the goals of Realisti.co and it will continue to be a priority that we will work on together with the Casavo team. Thanks to this integration, we can be more efficient in bringing our contribution of innovation into the real estate market."
The advantages for our partners
Thanks to the acquisition of Realisti.co, starting today real estate agents who choose to publish listings on our platform Doris have an additional instrument to be able to create even more complete and interesting listings.
Developed to simplify the daily work of real estate professionals, our platform of listings offers innovative and constantly updated digital instruments which ensure a user-centric experience. Within the platform, you can publish your ads for free and directly propose the properties for which you want to receive a purchase offer. If you are within our target, we will then act as direct buyers, liquidating 100% of the value of the house to end customers in less than 30 days. And real estate agents will receive their commission within a few days of the final deed of sale.
Get a real-time evaluation of your house