Casavo•29 June, Casavo team
A day in my life as Buyer Success Specialist: Laura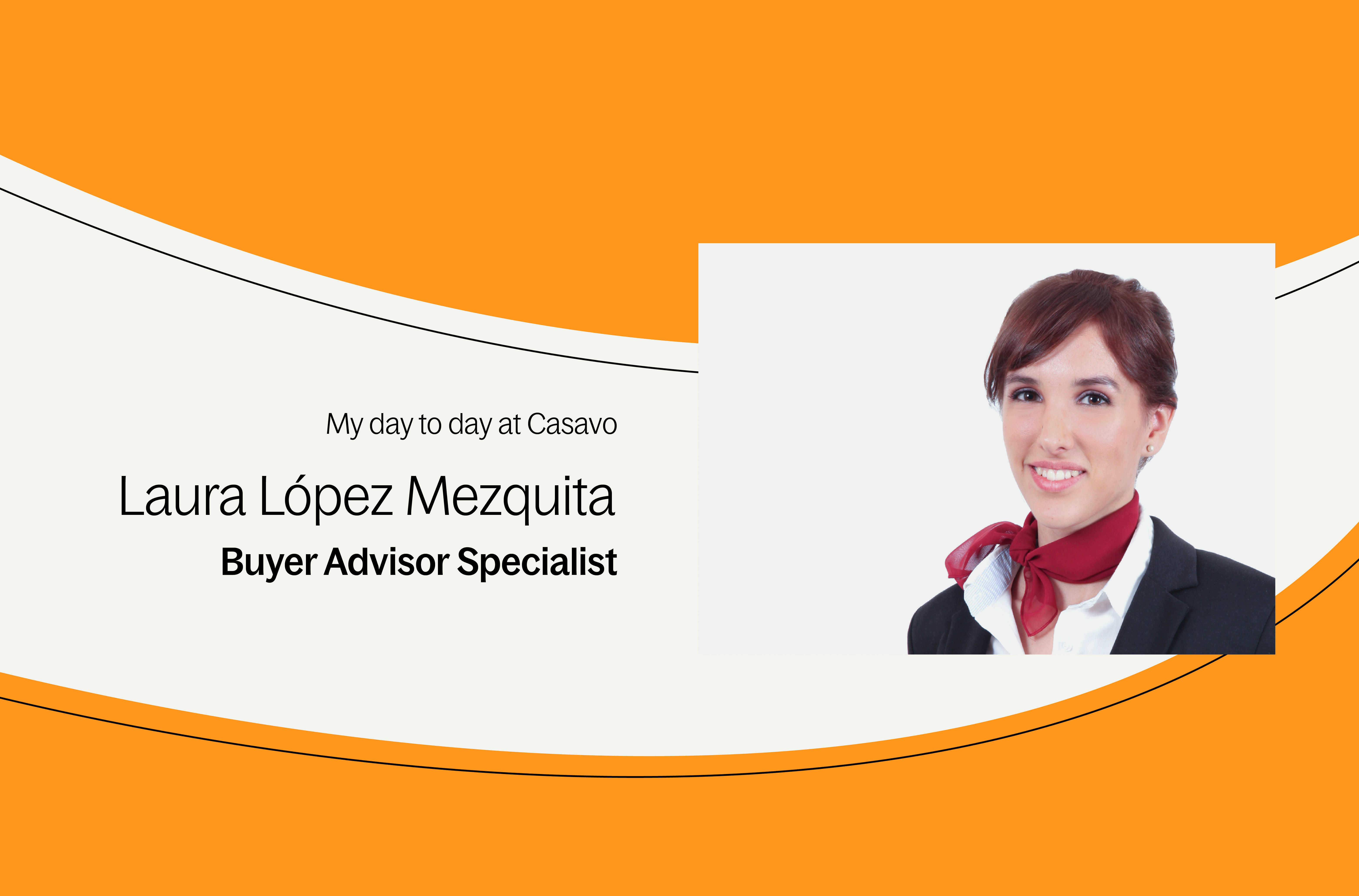 Over the past months we had an overview of the Seller and Partner teams' objectives and way of working. Today, we had a chat with Laura, from the Buyer Success Team in Madrid. She shared with us her experience at Casavo, and most importantly she explained to us the goals of the Buyer Success team, and her role as Buyer Advisor Specialist.
Along the questions, you will see how much the role of the buyer success team is key for the business of the company.
Hi Laura, thanks a lot for having this chat with us. Please, tell us more about yourself!
First of all, thanks to both of you for giving me this opportunity to share my experience at Casavo and introduce the buyer success department.
I am based in Madrid. This is where I did my studies. I did a Tourism degree specializing in business management and then a Master's program called Event organization, protocol and business tourism (MICE).
After my studies and since I joined Casavo, I've always been working in the tourism sector: as a tourist information agent in hop-on hop-off buses and as direct sales agent in a cruise company. This is where I met colleagues who are now working with me at Casavo in the Buyer Success team. I joined Casavo in Winter 2021, as a B2C agent and a few months later my role changed into Buyer Advisor Specialist.
What's the mission of your team?
Our team objective is to convert prospects who want to buy their home into clients. For this we support and advise them through their entire buying journey, giving them options and solving potential issues, like difficulties in accessing a mortgage.
And in the Buyer Success team, what's your role?
We are on the top of the buyer funnel. We manage potential buyers from the moment they get in touch with Casavo until they find the solution they are looking for; either a house or a service we can provide them such as a mortgage.
Our daily activities involve inbound and outbound calls, deals coming from our platform, partners' platforms, off-market or cross-selling.
What excites you the most about working in Casavo?
The part I love the most is the possibility to work surrounded by professionals that are also like a family for me. Young, ambitious and motivated people who are always available to help and to collaborate with you. This awesome work environment makes you push yourself and be the best version of yourself.
What does it take to succeed as a Buyer Success Specialist with Casavo?
Well, I think you should be an open minded person, motivated, proactive, be ready to change and participate in constant improvements, fast learner, teamwork and being thorough and paying attention to detail.
It's a long list! And, what is a lesser-known fact that you wish people knew about your role?
We are one of the pillars for the Sales vertical. Our work is not very visible, but we take care from the first buyer's contact and try to be by his or her side until he or she finds what he or she is looking for. We need to work a lot with the other teams, in particular the teams taking care of the sellers and our partners to match sellers' homes with our buyers.
Could you tell us one of your best memories with Casavo?
I think I couldn't pick up just one. I've had so many good times here: great talks, trips, team building activities (Escape room, off-site to Florence, Masterchef…), unforgettable parties (birthdays, farewells…). I try to have a good memory of every single day at Casavo.
Memories are linked to spending good time at the office I imagine. Are you coming to the office often?
With my colleagues we coordinate each week to be together at the office. This is key for having good communication and being well coordinated. Even if we work from home, our communication is still smooth. Being at the office is also a good way to better know each other, have fun and build trusted relationships!
And one last question. If you had to pick one of the 10 Casavo values. Which one would you choose?
Collaborative. Because collaboration is key between us and other departments.
Why is this value important for your team?
We run Madrid, Barcelona, Sevilla and Malaga and our daily activities involve other teams such as sales ops, sellers, market, renovation, marketing… The synergy with each of these departments allows us to grow, improve and achieve our common objectives.
Get an instant online home value estimate