Casavo•31 May, Casavo team
A day in my life as Product Manager: Andrea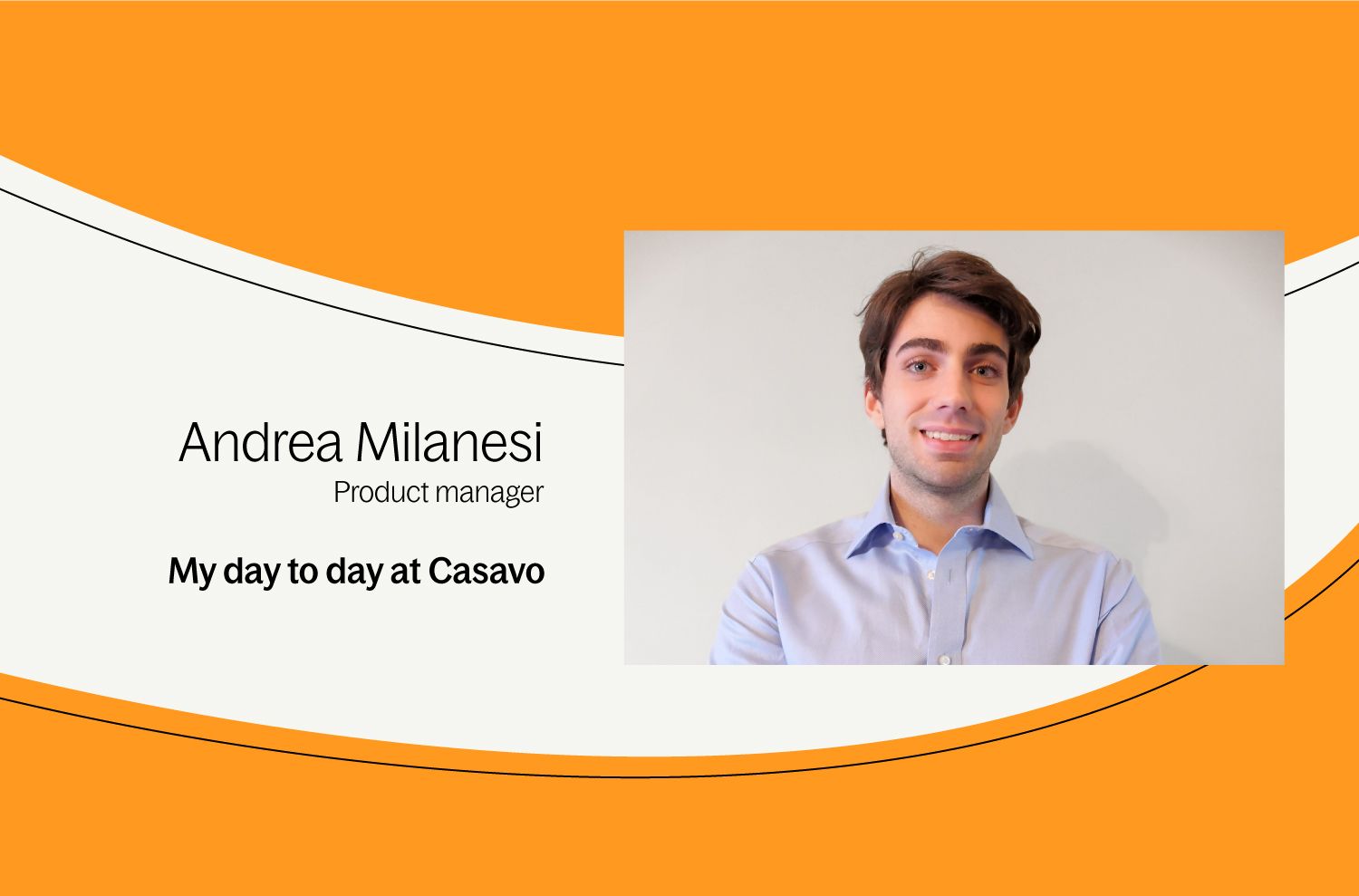 At Casavo, Tech and Product teams represent a quarter of the workforce. Andrea is part of the Product team as Product Manager of the Brokers tribe. We had a chat with him, and he explained to us his role and day to day at Casavo. Get an overview of it by reading our exchange together.
Hi Andrea, thank you for having this chat with us. Please tell us more about yourself
Hi everyone! I'm Andrea, I live in Milan, I'm 28 and I cover the role of Product Manager in Casavo which I joined more than 2 years ago. Before joining Casavo I spent 2 years between Italy and France getting a Master in Business Administration in Bologna, while spending 1 year in France for an Erasmus program in a Business School and an internship in Paris. I also held a bachelor degree in Marketing and Global Markets taken in Milan. I decided to join Casavo after my French experience as I wanted to come back to Italy to find a challenging adventure. And, I can firmly state that with Casavo I definitely found what I was looking for.
Could you explain in a few words your role in Casavo?
The Product Manager follows the entire lifecycle of a product from its ideation and creation to the incremental improvements. This role is essentially about discovering what our users really need and coming out with a solution that solves the problems they encountered.
To do so, we collect quantitative and qualitative feedback from users, the market and internal stakeholders. Then, we define a vision, a strategy to outline the direction we want our product to evolve towards. And together with the rest of the team (the so-called "Tribe") we identify the best opportunities to work on to achieve, step by step, the objectives that we have set.
In the meantime, we collect data and we talk with our customers in order to steer our activities towards what essentially makes the user happy.
You mentioned your "Tribe", could you explain which Tribe you are part of?
My Tribe is called "Tribe Brokers" and we develop the digital platform which links Real Estate agents (brokers) with Casavo. This platform is called Casavo For Agents. More specifically, our mission is to build the best digital solutions to streamline and optimize the way brokers collaborate with Casavo.
Brokers cover an essential role within the Casavo ecosystem as they are the actors that "connect" sellers and buyers and vice versa.
What excites you the most about working in Casavo?
Definitely the continuously new challenges that come out from time to time and the dynamic environment. If you are always looking for new challenges to be tackled, Casavo is definitely your go to place. Moreover, joining the company a couple of years ago I immediately noticed the entrepreneurial mindset of the organization and people as new proposals and personal initiatives are very welcomed by everyone, regardless of your seniority.
What does a day in your life as a Product Manager look like?
Each morning we do a quick alignment with the rest of the Tribe members during which we report any issues or blockers that could prevent us from reaching the short-term objectives we have set up for the weeks ahead. Then I usually carry out different activities with the aim of collecting feedback about the usage of our products and to identify areas of improvements. Examples of these activities are analyzing data and talking with customers. Then, with the rest of the team we discuss the next feature we want to introduce to our product, in order to identify every problem that must be addressed before starting to work on the topic and reduce the risk of unexpected issues arising.
What does it take to succeed as a Product Manager with Casavo?
Alignment with the rest of the company in order to ensure every team is working towards the same vision as a whole entity.
Frequent chats and spending time with our users. Casavo is trying to disrupt an industry where innovation has arrived in the very last years. The people that use our product represents the only reliable sounding board to assess whether we are moving towards the right direction.
What is one of your best memories with Casavo?
For sure, the day I have spent in a real estate agency to better understand the day to day job of one of our main users. I ended up trying to convince a client buying a house managed by this agent. Of course, I also love to spend time with colleagues at the office and afterwork to grab a beer!
Which project has excited you the most?
Last year's launch of Casavo for Agents in Spain.
We had set the foundations to create engagement before launching the very product by running a successful experiment in Madrid which then became the main and most engaging service our platform displays in Spain and which covered an essential role to boost the spread of the product all over the country, going from 0 to 1500 users in just some months!
To finish, what's your favorite Casavo's benefits from our integrated wellbeing program?
Definitely the smart working policy. Personally I like going to the office to meet my colleagues and to have a chat during breaks but at the same time being free of deciding where to work is something priceless. It has even helped me to better bond with some colleagues from other teams and make friends as this policy allowed us to organize some remote working weeks all together.
Get an instant online home value estimate