Casavo•20 December, Casavo team
Casavo nominated Best Workplace for Millennials 2020!

Being a startup is more than just a simple challenge. It is a journey made up of new paths to explore, where one must be bold and try new things and have the courage to always reach a little higher. Determination and the desire to grow are the common traits of our team made up of passionate people all rowing in the same direction. A direction that for us here at Casavo is clear and represents our North Star: to innovate in the real estate sector through the use of technology and make every home purchase and sale both simple and fast.
Being a startup also means betting everything on the team. That is why, for us, creating a work environment that is both stimulating and innovative has always been a priority. Every day we nurture the fertile soil in which our team's talents can grow.
We aren't the only ones to think that Casavo offers their team a unique environment in Italy. During 2019, Great Place to Work® Italia assessed 53 companies and listened to the opinions of more than 55,000 employees through the Trust Index© survey. It makes us incredibly proud that they found Casavo to be among the top 15 companies in the category "Best Workplaces™ for Millennials 2020".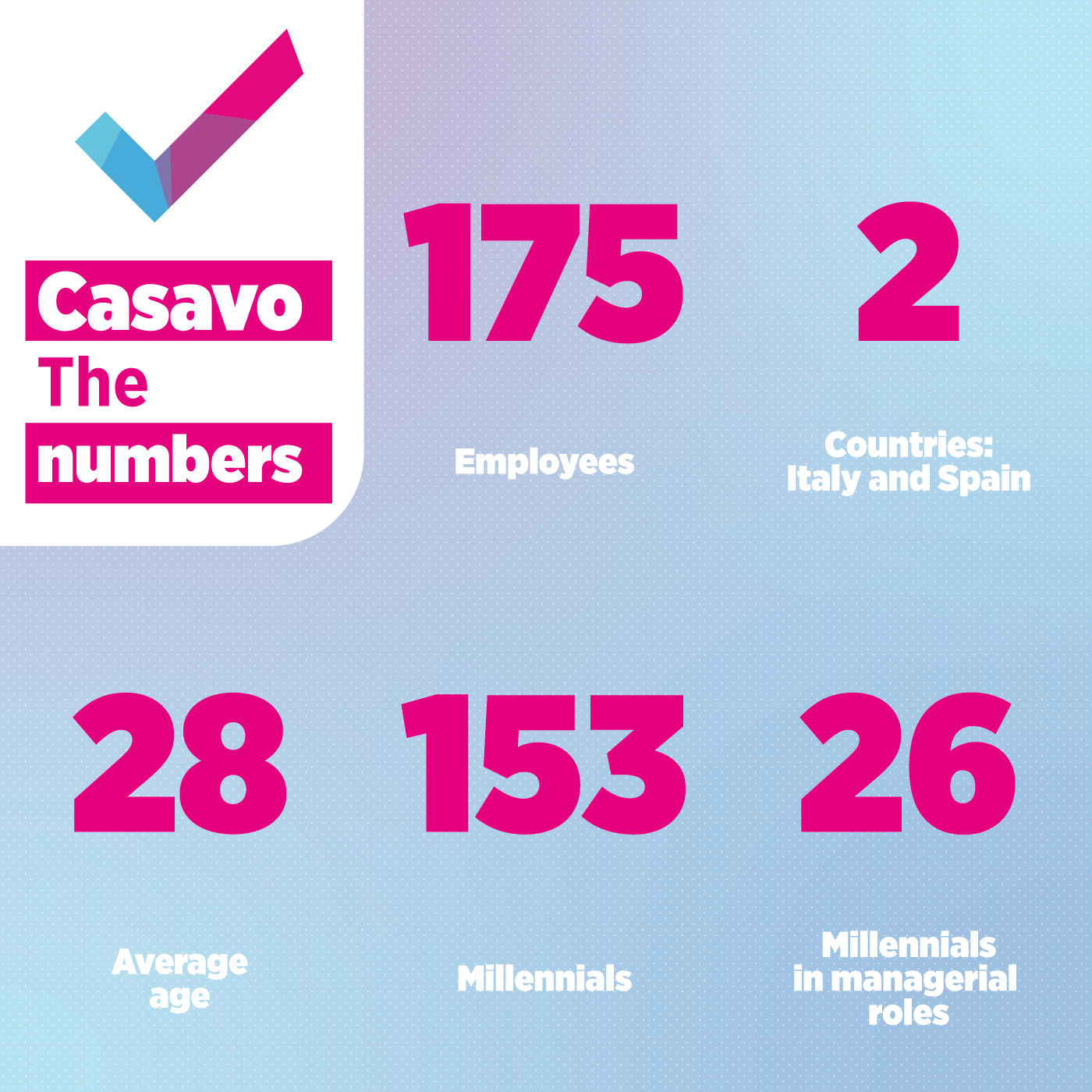 Our company culture looks to the future
Whoever becomes part of our team finds themselves immersed in a company culture that is different from the more traditional Italian style. Our approach is based on some fundamental principles that ensure the entire team a work environment that is both stimulating and innovative – and this isn't just empty talk. What do we mean? This:
#1: At Casavo you can grow
Every person who works at Casavo has the possibility to grow both professionally and in terms of pay.
To guarantee this progress, in performance evaluations we follow a totally new paradigm – unlike the classic attribution of a value as an end in itself - based on principles of personal development.
The program we use - called Better Conversation – is designed to elevate the moment of providing feedback through active listening and the involvement of colleagues from different sectors.
An important part of our incentive system is then quantified on the basis of how much the employee has become a bearer of our values. This is another of the elements that makes our company unique.
In fact, beyond a fixed salary, Casavo offers different benefits including:
commission/bonuses based on reaching operational or collective goals in line with the company's values and – if the role requires – personnel management goals;
additional benefits such as those tied to the Easy Welfare platform, Trenitalia discounts, vouchers for food delivery when working late at the office, reimbursement for taxi for those returning home after 8 PM, business accounts on the main car sharing websites and more;
private health insurance for families;
insurance for Covid-19 assistance for employees and their families;
training courses;
monthly meetings dedicated to aligning and sharing priorities at the company level;
possibility to work remotely for 18 days each month;
6 days of sick leave every year with 100% pay and without the need for a doctor's certification.
As you can clearly see, we really care about our team, and these are just some of the ways that we show it. But not the only ones!
#2: With Casavo training never stops
As a rapidly growing startup, one of the fundamental aspects of our company culture is training, which is based on three principles:
Onboarding & Culture. To share and reinforce our company values, the entire team has access to an e-learning platform to be able to acquire the fundamentals of the business and the strategic vision of the company. The entire organization is also involved in periodic trainings using the Agile methodology, which represents the approach of collaborative work at Casavo.
Technical Boost. To enhance the professional growth of each member of the team we develop tracks for specific upskilling and reskilling. In other words, we supply the necessary skills to cover each specific role. This is done through on-demand content and workshops led by external professionals or internal colleagues.
Essential Leadership. The mangers represent an essential resource for the growth of Casavo, so we organize mentorship initiatives and coaching dedicated just to them.
Whatever your role, from the moment you become part of our team you will have access to further training to become a better version of yourself. Day after day.
#3: At Casavo we're flexible and we love remote working
The wellbeing of the team and the equilibrium between private and work life are fundamental themes for us. That is why we have laid out guidelines to follow so that each employee can carve out personal time and unplug from work. A few examples? We never schedule meetings during lunch breaks and we avoid sending non-urgent communications between the hours of 8 PM and 8 AM.
Employees with families also have a dedicated support and additional health insurance, which covers all their family members.
Now more than ever, we are allowing the use of remote working. To be truthful, we have always been huge fans of this type of work because of the flexibility it offers. The current pandemic however pushed us to take another step forward: we have initiated a new company policy that allows for the possibility of working from home up to 18 days each month.
#4: Casavo takes care of its team
The Covid-19 health crisis changed all our lives and the way in which we work. From the very beginning we extended the remote working policy to 5 days a week, guaranteeing everyone the possibility to work from home in complete safety.
We also implemented a supplementary insurance to allow everyone – employees and their nuclear families – to receive the necessary assistance in case of infection or a hospital stay. The policy also covers the phase of post-hospitalization, home medical assistance and other support services such as home delivery of groceries.
But we didn't stop there: to keep our team safe we supplied all the offices with personal protection equipment such as face masks, gloves and shoe-covers. We also guarantee the reimbursement of Covid-19 serologic and swab tests, to incentivize prevention and ensure the situation is always under control.
And lastly, to reduce the necessity to use public transportation and show our social responsibility in a concrete way we cover the cost of taxis and car sharing for everyone that doesn't have their own car.
As you can see, Casavo not only cares about its customers but above all about its team, the people who work every day to grow our company.
To be able to change the rules of the real estate market thanks to technology, we are always looking for new talented people. From millennials and beyond, we are searching for people who love a challenge and are ready to grow together with us. Does this sound like you? Then come join one of the Best Workplaces™ for Millennials 2020!
Get an instant online home value estimate