Casavo•Marketing Casavo
Giuseppe Sole's story
"Casavo is an efficient company with regards to sales and refurbishments and it employs honest people"
Giuseppe
Can you tell us a little bit about your old apartment?
It wasn't mine but my father's and we inherited it when my parents passed away. I didn't particularly like the apartment and I didn't want to go and live there; it was an apartment which, being so central and just across the road from the University, had its pros and cons. I didn't think it was necessary to live so centrally in Milan and I preferred a more sophisticated apartment therefore I tried to sell my father's.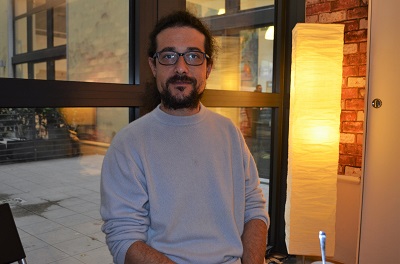 It didn't have a great layout and it would have been necessary to do some major works to make it more usable. There were already two of us owing it, my brother and myself, and not being professionals to do those major interventions, we found ourselves in difficulty; we would have had to organise advance payments, follow the works etc. My brother was the one who was not very willing, given that there was also a risk to take; we had already been with various estate agents for a year, receiving only unsatisfying offers. In any case, it was a trophy apartment with regards to its position and views and therefore potentially beautiful but in reality it wasn't like that.
Had it already been on the market before contacting Casavo? If yes, how long was it on the market for?
Actually, we personally never contacted Casavo but it was one of the agencies collaborating with you that had left letters at my current address on many occasions – it sparked interest given that my address was not so evident. I was already relying on other agencies and didn't want to give it to 2,000 people so I regularly threw away those offers on my own account. At some point, my girlfriend was effected by this persistence and wanted to call them all the same even if I was against it and didn't want to lose my time. When she was on the phone she was laughing and at the end of the phone call she advised me to get in touch again. So I decided to call them, spoke to the agent Luca and I was quite clear: the mandate was for others, the apartment was already online and I didn't want to terminate the contracts with others. It would have made sense only in case the agent had had an immediate buyer. Unexpectedly, the agent specified that he had a client willing to purchase it, or rather, Casavo: so I called the agency and they contacted each other.
How did you discover Casavo and what made you entrust the sale to us?
The day after the phone call, the agent came round together with Victor from Casavo and an architect to analyse the potential of dividing. We decided to rely on you because we received a higher offer than the latest one received and it was about €50,000 higher. The ideal solution was to sell it quickly to avoid paying further taxes, service charge etc. We have also considered the idea of dividing the apartment, given its size of 170 sqm but it was split into two parts: one refined and another unrefined. Users of the refined part wouldn't have taken it because of the unrefined one and vice versa. We could have divided it like Casavo did but we were not sure to invest in it. We imagined that the person buying it would have preferred to chose him or herself but we were clearly wrong given such a quick re-sale by Casavo.
How did you find this selling process with Casavo?
At start, this new and quick formula makes you think for a moment. Such a difficult decision resolved in such a short time! I was not very sceptical but my brother was indeed so we decided to have this process checked by our notary and solicitor. Casavo is surely a well efficient company with regards to sales and refurbishments and it employs honest people. For the more sceptical, it is always possible to do what we did, or rather, forward the matter to the lawyers. The process was quick and clear, and it respected the agreement. I was super surprised how the agent managed to re-sell it, given that the market had not been so interested during the year.
Would you recommend the sale process with Casavo?
Yes, I would. The process was quick and if you are in a hurry and need cash immediately then Casavo is your right choice. You can try to make an investment yourself but I didn't manage it in one year. Casavo did better than me.
Get an instant online home value estimate