Casavo•28 July, Casavo team
My day to day at Casavo as Broker Support Specialist: Charlène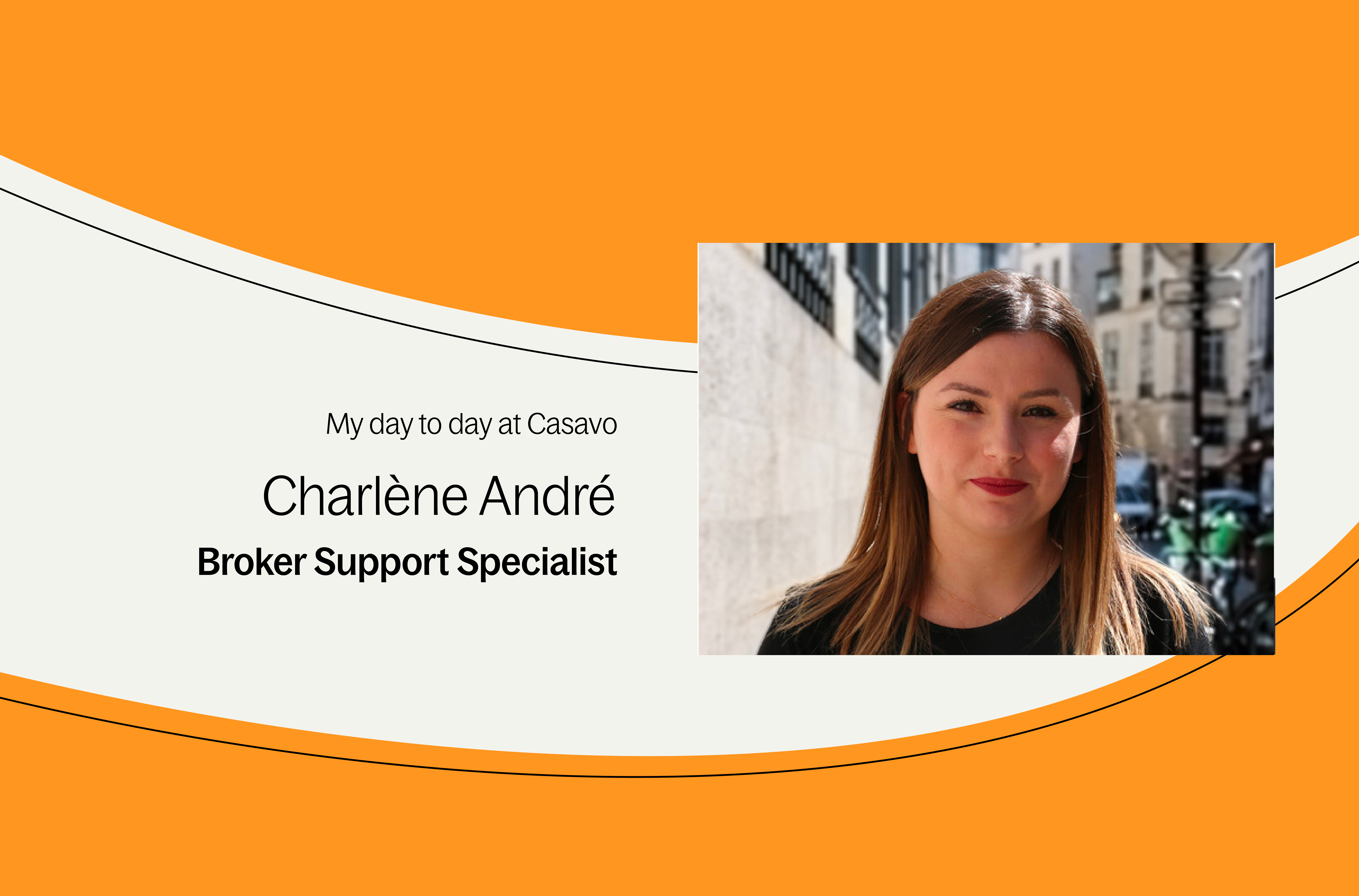 We had a chat with Charlène. She joined Casavo last year, and she is a Broker Support Specialist in France. Her role? Supporting the 100 French brokers working for Casavo in their day to day. Since she joined Casavo, she managed more than 1400 support requests received in the App Sales - not taking into account all the requests she received on Slack. During our conversation she explained to us her role at Casavo beside supporting brokers and told us about her experience at Casavo.
Hi Charlène, thanks for having this chat with us! Please tell us more about yourself!
Hi! I am Charlène, I am from the South of France. I moved to Paris for my studies 5 years ago. During my studies, I studied 3 years in Communications, followed by a Masters in e-Commerce. Before joining Casavo I had diverse work experiences.
Indeed, during my Masters degree I did 1 year of apprenticeship in communication in a wealth management company followed by 1 year of apprenticeship in an e-commerce platform specialized in jewelry. After my studies I worked 1 year in the web/marketing department of a French retailer.
So before joining Casavo 1 year ago, I never worked in the "support" nor in Real Estate, but I have a strong digital background.
Could you explain to us in a few words your role at Casavo?
My number one priority is to support brokers to get to grips with the "App sales" when they join us. The App Sales is the web application we make available to the real estate agents to manage all their business from prospecting to the deed signature.
Besides this, I am also the link between brokers and the tech & product team. I gather feedback and questions from the agents, and I translate them as "needs" to the tech team, so they can upgrade the App Sales based on the agents' feedback.
In parallel, I work on the services we provide to the agents and the respect of our processes: I write FAQs, manage the relationship with some of our service partners, check out the ads online published by agents, boost them…
What excites you the most about your job?
As you can imagine, with all these activities, each day is different! And this is really motivating. But I think that what's exciting me the most is to see the direct impact of my work on the upgrade of the App Sales, thanks to my direct work with the tech & product team and the feedback I receive from agents.
What are the must-haves needed to do your job?
Tolerance, kindness, like the real estate sector and being tech-savvy.
Because, I support about 100 agents each day and each of them is different. Indeed, some of them are more or less comfortable with digital technologies, others have more or less experience in Real Estate. So, I need to adapt myself to each of them to provide them with the best support. And I support them beyond the app sales!
I couldn't do this job if I wasn't passionate about real estate, and like the tech world.
What is one of your best memories with Casavo?
My onboarding. I have been really well welcomed and integrated into the team. Really quickly, my team trusted me and gave me the trust in myself. This is the first thing that is coming to my mind. Apart from this, for sure there are all the good moments spent with the team, too!
What is a lesser-known fact that you wish people knew about your role?
People think that I am only answering questions sent by brokers via a chat, but as I have just said, there are many other facets to my job!
What's your favorite Casavo's benefits?
For sure, my favorite one is the smart working policy. It's awesome! If I want I can go visit my family in the South of France and work from there during the whole week. My manager trusts me. And this is great! And at the same time, I can go to the office whenever I want.
Are you currently working on a specific project?
We are working on the upgrade of one area of the App Sales with the Tech & Product team. This is the area where brokers can access all services, useful links and information for their business. We are reorganizing it, to make it more UX friendly for them. If we do it well, after this release, I should receive less support requests from brokers, as they will access most of the information they need from there. I hope it will be live in September!
Get an instant online home value estimate