Casavo•23 March, Casavo team
Selling your house is now even easier with Casavo's new mobile app!

Simplicity: this is the word that best sums up Casavo's vision. Helping you to sell your house, for us, means doing everything possible to facilitate the entire selling and buying process. Today we have an important new feature that we would like to share with you, a small but revolutionary change for the entire real estate market. We are referring to our new application for mobile devices that allows you to open the doors of your house for remote visits, after which you can receive a purchase proposal without any physical inspection of your property!
Casavo and its app: the creation of a revolutionary idea
The launch of this application is part of the larger plan that we have been working on over the past few months to simplify the real estate selling experience. We were founded more than two years ago with this mission and, with this new app, we have decided to concentrate on one of the most stressful parts of the selling process: the property visit. The appointments to view your house by potential buyers are often numerous – more than 20, as some of our clients have told us – and they force you to let strangers into your home, and to arrange your schedule based on someone else's needs.
As of today, all this will change in a radical way.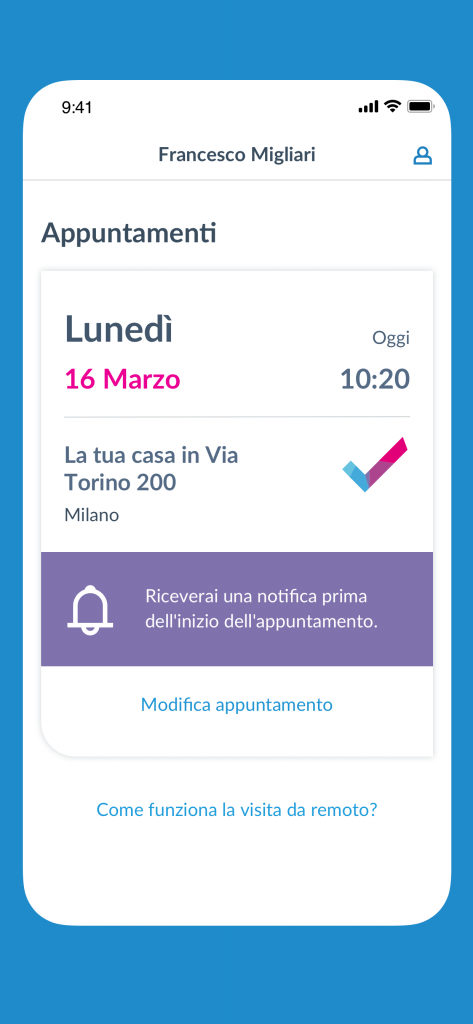 Thanks to the new Casavo app, selling your house will be even easier: you can let us conveniently view your house from your cell phone, and be free from the weight of having to organize and deal with in-person visits.
Technology serving people
We had planned to launch in the coming months, but given the complex situation we are facing due to the COVID-19 virus, we decided to move up the release date. This instrument will permit us to support our clients even during the complex time we are living in right now. We can, in fact, facilitate and speed up the real estate selling process and, at the same time, comply with all the obligations outlined in the law relating to the coronavirus emergency (DPCM march 9 2020).
The rapidly changing scenarios of recent days have pushed us to update our plans. To be able to release this technological instrument in a timely manner, and to restore vitality to the real estate market in a moment of crisis, we decided to leave out some secondary functions that we had already designed. For this reason, any advice or suggestions are more than welcome and will help us to optimize the instrument in the coming weeks.
The Casavo application is available today for all individual clients who are interested in selling their house. Because the current emergency situation is putting our partner real estate agencies in a difficult position, in the coming weeks we will make the application available to them as well so we can provide our support in this complex moment.
Remote Visits: how do they work?
To request a valuation for your property, it just takes a few steps:
Visit the Casavo website and insert all the information requested.
Get a free valuation of your property based on the algorithm
One of our agents will contact you on the phone to set a date and time for a remote visit
Download the Casavo app from the Apple Store or from Google Play for Android devices
Access the application using your cell phone number, the same one you used during the online valuation process
Confirm your appointment from the application; if something comes up, you can change the date or time by calling our customer service directly from the app
It's that easy! At the arranged time you will receive a video-call on the app, and you will show your home to the Casavo consultants. Our team of professionals, after finishing the remote visit of your house, will refine the initial algorithm valuation that you've already received. After which, in just a few days, you will receive news from us. Fantastic news: an offer from Casavo for the purchase of your property!