Casavo•21 April, Casavo team
What does it mean to be an HR Business Partner at Casavo?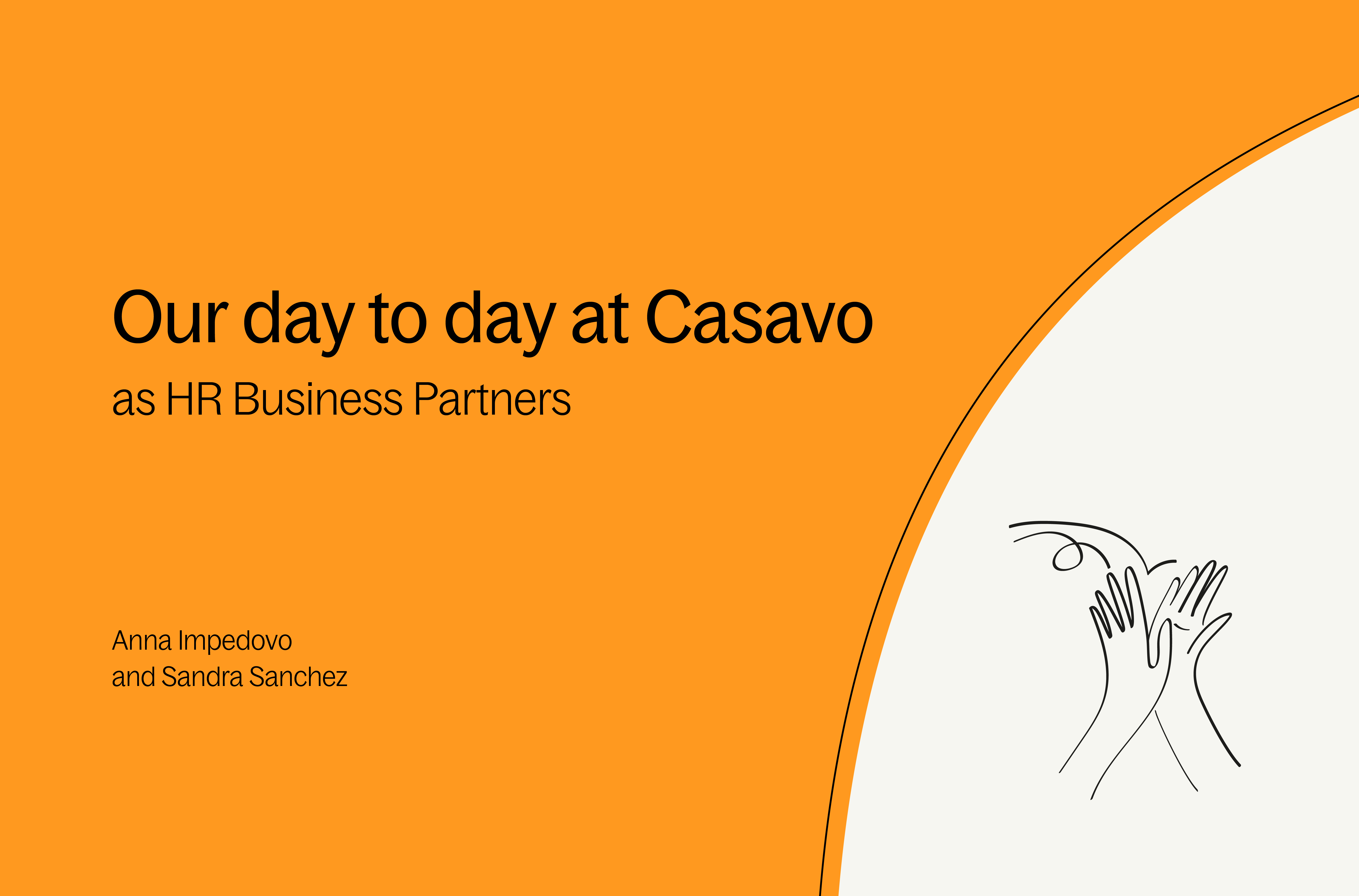 Here at Casavo our mission is to change the way people sell, live and buy homes in Europe. Everyday, we work all together to achieve this objective.
Anna and Sandra's role as HR Business Partners Italy and Spain is strategic within the organization.
Do you know what it means to be an HR Business Partner at Casavo?
We have spent a bit of time with them and they explained to us their role and day to day at Casavo.
Tell us about your role as HR Business Partners.
At Casavo, HR Business Partners are the bridge between the HR team and the business.
Following the global HR plan and company strategy, we are here to ensure:
Sustainability of the company culture,
Employees' growth,
Business continuity enabled by a sound organizational framework.
As soon as the objectives are set, we are totally free on the strategic and operational standpoint. We have a lot of freedom and space to innovate and suggest areas of improvement.
We work hand in hand with the teams, management and key stakeholders to find ways to make the teams more productive and engaged.
It's really exciting to work with them as a team to face the day to day challenges.
We have several levers to develop the teams: organization, learning and development activities, engagement activities…
It might seem a cliché, but it's true there isn't one day looking like another one. Each day there is a new challenge to face, or a new project to work on!
Each quarter we do an eNPS survey. It's full of insights for the HR team and managers. It enables us to get employees' feedback, concerns and ideas. The survey questions tackle the following topics: employee engagement, goals, learning and development, management, work life balance, teamwork and compensation.
After deep analysis at global, country and team levels we build an action plan with managers to ensure team engagement the following quarter. The analysis and action plans are shared to the teams.
Spoiler: we don't have a Masters degree in Psychology!
We do our best to empower people, listen to everyone's requests and try to help, but unfortunately, being an HR Business Partner doesn't mean you are a psychologist.
Please, give us one tip to succeed as HR Business Partner.
Our best advice is to really dedicate time to know business and people dynamics in the company. During the onboarding it is important to get a proper understanding of the challenges each team is facing to ensure you can enable them to develop their way of working.
For instance, we spent hours with team members during the In your shoes program of our onboarding to understand the day to day of each role.
What's one of your best memories at Casavo?
Our best memory of these past months is without any doubt the team building we had with the whole HR Team in Milan. For the first time, we spent time all together (not digitally).
These 2 days were really beneficial for all of us!
Imagine: Italian, French and Spanish people with diverse expertise in one room! It was really inspiring and fruitful!
If you had to pick one of the Casavo values, which one would you choose?
At Casavo there are 10 values. If we had to pick one linked to the HR Business Partner role it would be collaboration. Collaboration, because it is key in our day to day.
Indeed, in one hand we need to work closely with the other HR team members to build and put in place a strategy for each teams based on the levers we have:
talents attraction,
talent acquisition,
talent growth
and talent engagement.
On another hand, we need to collaborate closely with managers to build a strategy fitting with the business needs.
What is your favorite Casavo benefit?
At Casavo there is an integrated wellbeing program composed of: work-life balance, social, physical and financial initiatives.
In the work-life balance program, the flexibility initiative is really our favorite. Indeed at Casavo, we have the freedom to set up our own time table. Each of us has its own objectives and deadlines, based on them we are free to set up our own agenda: we are not here to work a certain amount of hours.
We are looking for a colleague!
We are looking for a colleague in Paris, to develop and empower the French teams, like we are doing in Italy and Spain. This person will work closely with us but also with the French managers.
Interested in? Apply now here.